Jim Horner's Rocket Collection
---
Actually, this is just a part of Jim's collection.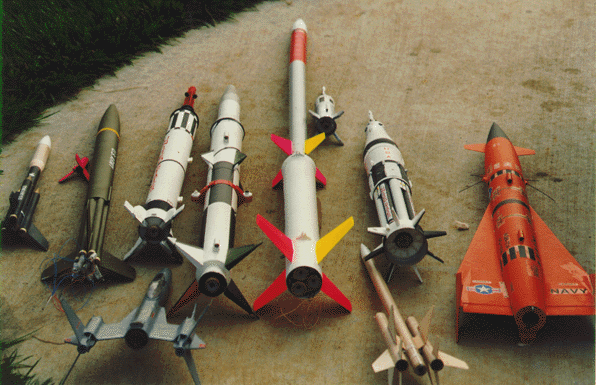 Rear, left to right:
Scratch-built Black Satin
Estes Mosquito
Scratch-built GAM-63
Estes Mercury Redstone
Scratch-built RAM-B3
Scratch-built Nike-Tomahawk
Estes Little Joe
Estes Saturn 1-B
Estes Jayhawk
Front, left to right:
Estes Strike Fighter
Scratch-built Duelin' MiGs dual boost glider

Notes on scratch-builts:
 1. Black Satin is powered by 3 mini-engines in the pods, with
    the ejection gas ducted into the center body tube.
 2. GAM-63 is a sport rocket powered by a cluster of anywhere
    from 3 to 7 mini-engines. There is a video of this rocket 
    in LUNAR's Video Gallery.
 3. The RAM-B3 is a scale model, including the unusual spin
    motors attached amidships by the red band. (Non-functional
    on the model, of course.) See Alway's Rockets of the World
    for details.
 4. Jim's Nike-Tomahawk is described in detail on its own page.
 5. The Duelin' MiGs rocket has since been replaced with a new
    improved version featuring three parasitic gliders. Jim has
    managed to set these up so that they perform a surprisingly
    good imitation of a dogfight as they spiral down together.
    Jim wrote a really nice article with complete plans for this
    rocket, which appears in the December 1996 issue of the NAR
    magazine Sport Rocketry.

---
| About LUNAR | Home | Calendar | Contacts | Gallery | Old Gallery | Member Pages | Events | Presentations & Docs | LUNAR'clips | Handbook | Space Place | Mailing Lists | Joining | Other Rocketry Pages | Site Map | Frames |
All content is the responsibility of LUNAR. If you have comments or suggestions regarding these web pages, please contact the

Copyright © 1992 - 2019 LUNAR