Jim Horner at LUNAR Launches
---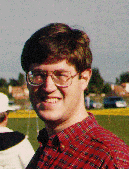 Jim builds very clean models, both sport and scale, and both kits and scratch-built. In addition, he likes to build rockets that do complicated things. For example, he has designed and built his own miniaturized electronic stager to fit into small lightweight two-stage rockets.

Here's Jim with his scratch-built Nike-Tomahawk...

...and his modified Estes Honest John.

Here's an overview of some of Jim's rockets.
---
| About LUNAR | Home | Calendar | Contacts | Gallery | Old Gallery | Member Pages | Events | Presentations & Docs | LUNAR'clips | Handbook | Space Place | Mailing Lists | Joining | Other Rocketry Pages | Site Map | Frames |
All content is the responsibility of LUNAR. If you have comments or suggestions regarding these web pages, please contact the

Copyright © 1992 - 2023 LUNAR