February 2004 Lunar Launch at Snow Ranch
The February launch at Snow Ranch ended up being postponed due to rain to March 6. We were nervous enough with having our first official launch at a new launch site. We had new permits to get, different people to get permits from, rental on a porta-potty (there are no amenities at Snow Ranch), plus a lot of really soggy ground that will eat a car whole if people do not drive exactly where we show them. All of this had to come together for this new launch to work. As it turned out, all our hard work paid off nicely. We ended up with a beautiful spring day with almost no wind. No cars got stuck and the kids left the rattle snakes alone. Our only difficulty was an airplane who appeared to want to watch a launch from above and kept flying right over our pads.

We were certified level 2 and could fly to 10,000 feet and up to J engines. Needless to say, our high-power members didn't let our permits go to waste.

Setting up the launch control equipment as Pa Orvis looks on.
Setting up the mid-power pads with the high-power pads in the distance.
The equipment trailer survived the trip to the ranch without problems.
Just about ready to go.
Pa Orvis checking on the kids who are enjoying themselves in the creek. He wants to make sure they understand that the wild animals around here really are wild.
Ma Orvis could see the high-power launches from her kitchen window but decided to come out and take a little closer look.
Lee Teicheira got things started with LUNAR's first ever J launch. His rocket is a scratch built, 3 x upscale Estes Maniac. Using on a J415W it flew to about 4500 feet. A truly awesome way to start our first club launch at Snow Ranch.
That Maniac makes Bill Orvis' Shadow look absolutely puny.
Away it goes.
Ah yes, parachutes. We like that.
Down all in one piece and only a short walk from the pads.
Not to be outdone, Steve Kendall put up his PML Mini-BBX on an H268R. The flight up was really spectacular as was the flight down. With a failure of his altimeter none of the ejection charges fired and the BBX disappeared up on the hillside. Steve searched for about an hour but couldn't find it. I (Bill Orvis) went out on a 3 wheeler after the launch and searched for it. Just as the sun was starting to set, I saw a glint on the hillside. As glints don't normally occur on the range, I drove over to check and there in the ground was the tail of a rocket. All you could see was the engine and four fins sticking out of the ground about 2 inches. If I hadn't seen the glint, I never would have found it. A 61 inch rocket turned into a 6 inch rocket. At least that altimeter will never cause another failure.
In addition to some really big rockets, we also launched some small ones. This is Bill Orvis' PenRoc adapted from a computer security pen passed out at his work.
Jack Hagerty, the club president, up on the hill getting a picture of the the whole group. "Hey Jack, take another step back, you can get us all in."
As you can see, we had a pretty good crowd. We didn't advertise this launch except among the club members because we wanted to work out all the kinks before having to handle a crowd but the word appears to have gotten out.
March 2004 Lunar Launch at Snow Ranch
The March launch went off without a hitch at Snow Ranch. The day was beautiful with almost no wind. The rockets were almost coming back down on the pad.
Setup was a little different this launch. We put the pads at the north end of the field facing north so the sun would not be in everyone's eyes in the afternoon.
Ma Orvis kicked back to watch the rockets fly. Note the strategically placed shovel for use in case some fanged wildlife decided to visit.
As soon as we were setup, things quickly got busy.
The high powered guys got setup but the first launch of the day was a mass launch of 12 Cubits. A cubit is a small paper rocket that looks like the cut off corner of a paper box.
Not to be out done, we had a high powered Cubit as well. Incredibly, that thing actually flies. Actually, just about anything will fly if you stick an H motor under it. The HP-Cubit spins on the way up which is why the smoke has the spiral look to it.
Of course if the Cubit goes up, it has to come down.
After the HP-Cubit, Sander Pool launched a PML Eclipse on an I-357.
April 2004 Lunar Launch at Snow Ranch
The April launch at Snow Ranch was looking kind of iffy with 50% rain predicted and the likelihood of wind to go along with that. We also faced the problem that the grass was starting to dry out which increased the fire danger. This being our last launch at The Ranch until after the fire season, we were hoping for a good day. Well, the rocket gods were with us. It rained about 7:30 am for about 30 minutes, wetting down the grass and eliminating any fire danger for the day and then stopped. We had a beautiful day with scattered clouds to accent our rockets as the streak across the sky. As the last car was driving away, the wind came up and it started to rain. It actually poured down for a while but we were all snug in our cars on the way home. Talk about being charmed.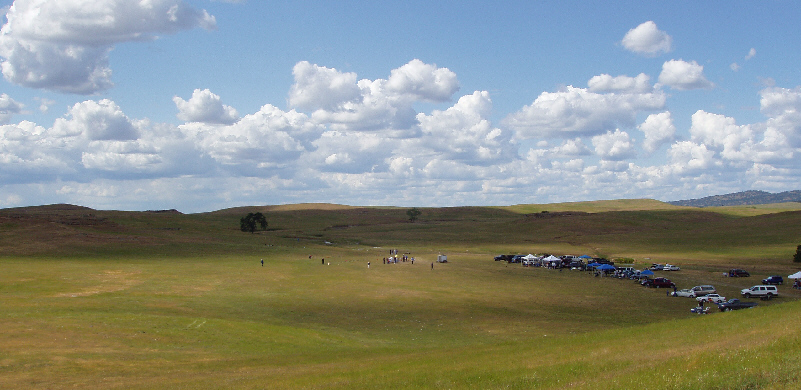 | | |
| --- | --- |
| | --- |
Just to get things started, here is my nephew Gabe launching his first rocket. A Big Bertha on a C6-5. I can tell, he is hooked.
Here is Kevin McGrath's Magnum on an I435T that air started two H97s. I didn't get a shot of it on the way up but got some interesting ones on the way down. If you look really close at the first photo, there is a speck that is just after the first ejection charge fired, splitting the rocket into two pieces so it can tumble down a ways before it fires the main parachute. The second shows it still tumbling. The third and fourth show it on the main.

The following two links are videos of Kevins rocket shot by Jamie Clay. This first link is to the entire footage with all of Tony Cooper's commentary. It is about 7.5 megs.

http://www.videorocketry.com/peters_video/kevins_loc.avi

The second link is about half that with it starting right before lift off

http://www.videorocketry.com/peters_video/kevins_loc2.avi

Not to be outdone, here is a link to Peter Clay's video of a Saturn V flight.

http://www.videorocketry.com/peters_video/saturn5.avi

This link is to a truly awsome video. Jamie Clay stuck an AIPTEK Pencam SD on his rebuilt Vanishing Act Too. An image from that video is to the left, showing the Snow Ranch field from about 3000 feet (North is down and to the right). Somehow, he managed to poke a hole in a cloud (just a small hole) at about 3800 feet and then parachuted back through the cloud.

www.VideoRocketry.com/Vanishing_Act/VA_Too_a/

He was shooting for a mile and has assured us that it was the cloud's fault that he didn't make it.
All images on this page by William Orvis unless otherwise labeled.
Previous
Next
---
| About LUNAR | Home | Calendar | Contacts | Gallery | Old Gallery | Member Pages | Events | Presentations & Docs | LUNAR'clips | Handbook | Space Place | Mailing Lists | Joining | Other Rocketry Pages | Site Map | Frames |
All content is the responsibility of LUNAR. If you have comments or suggestions regarding these web pages, please contact the

Copyright © 1992 - 2019 LUNAR